By Kelvin Lee
It was a hectic week on Wall Street…again! On Wednesday, the FOMC lifted interest rates by 75bps, the largest rate move since 1994 with Fed chair Jerome Powell noting that another 75-basis point hike would be on the table for the next policy meeting in July. Markets cratered on Thursday marking one of the largest daily declines in the S&P500 as the confidence in the Fed's ability to reach their 2% inflation target dwindled. With the index at 3,674 as of market close Friday and a weekly decline of 5.8%, we are back to late 2020 levels and below our 3,700 fair valuation model.
As markets wrap up before the long Juneteenth weekend, this is what we're watching out for: The University of Michigan releases their Consumer Expectations survey results next Friday. As referenced by the FOMC on Wednesday's press conference, these monthly survey results are being watched carefully and are having increased influence on policy decisions.
We are also monitoring the spread between two key inflation measures, the consumer price index (CPI) and producer price index (PPI). The CPI tracks the change in prices for consumers while the PPI looks at the change in costs for producers. Inflationary pressures have driven both indices to 40-year highs, but an indication on firm margins is better illustrated through the spread between CPI & PPI. If rising costs from producers are passed on to the consumer, then strong income margins could be sustained. Looking below, we currently see this measure below zero at -2.82%, a sign that firms are unable to pass off all their rising costs to customers. An inelastic consumer and continued elevated costs could lead to a decrease in overall spending and correspondingly dent GDP. We anticipate reduced income margins from inflation and foreign exchange weakness to be a theme for second quarter earning calls.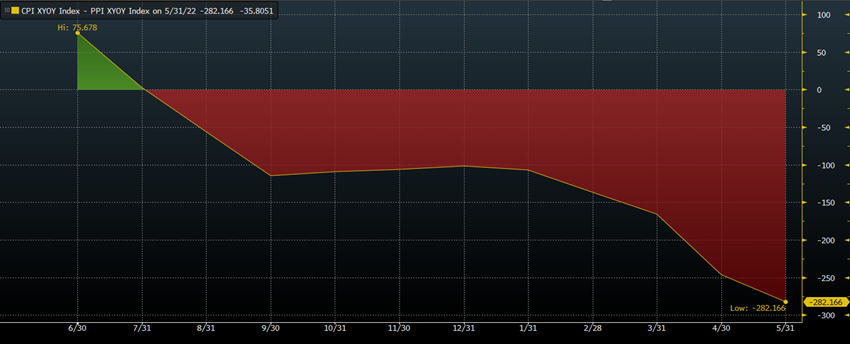 * Source: Bloomberg
To contact the author of this story:
Kelvin Lee at kelvin@hamiltoncapllc.com
To contact the editor responsible for this story:
Alonso Munoz at alonso@hamiltoncapllc.com