By Kelvin Lee, Alonso Munoz
It's been a year since our last hobby post, and a lot has changed. In the second part
of our series of watches and cars, we give an update on our favorite leisurely
pursuits.
Watches fall, everything else rises.
Since the last time I wrote about watches, the S&P has risen 15%, interest rates are
up 3%, and crypto currencies have rebounded 23%. One of the few markets that
didn't participate in the rally over the past 12 months has been, remarkably, watches.
The aggregate luxury watch index has fallen 16% since last year (of course we're
referring to market prices and not retail). If we look at which models and brands
have seen the most drawdown, it's discordantly characterized by the most popular
ones that have traded at the highest premiums over their MSRP's. In general, these
high in demand models have started to revert to pre-pandemic prices. If we take one
of the most traded and coveted pieces, the Rolex Daytona, the chronograph has seen
a drop of nearly 40% since its 2021 peak. Now it's certainly not close to its store
price, but a panda Daytona selling at $30k is a lot easier to swallow than $50k. It's
not just Rolex either, Audemars Piguet and Patek Phillipe are seeing their secondary
prices plummet on average by 20% year to date. So why? Demand. A demand curve
slopes downward since buyer reservation prices differ. People are willing to pay
different prices for a product, and when there's a flux of buyers at the top end,
suppliers are happy to charge those higher prices. But a great deal of those watch
buyers has vanished. We are in a period of decade-high interest rates and credit card
debt. Maybe tightening credit standards have discouraged luxury shoppers and
amateur watch re-sellers, or maybe the end of 10x+ crypto returns have decimated
the pretentious Royal Oak customer base. Either way, volume and prices for the
most in-demand models have dropped. And that's a good thing. When the
ostentatious buyer or avaricious flipper is out, there is left the true enthusiast, the
proper collector and buff for such archaic products. With relatively reasonable
prices, watch aficionados are in a prime spot to grab that grail piece they've been
lusting after for the past two years. Also, a PSA for the watch investor, secondary
watch prices are volatile. But if you enjoy wearing the timepiece you converted your
hard-earned greenback for, then you can wait out any price depreciation in comfort.
That's a lot better than public market participants, just try wearing your shares of
Dollar General on your wrist.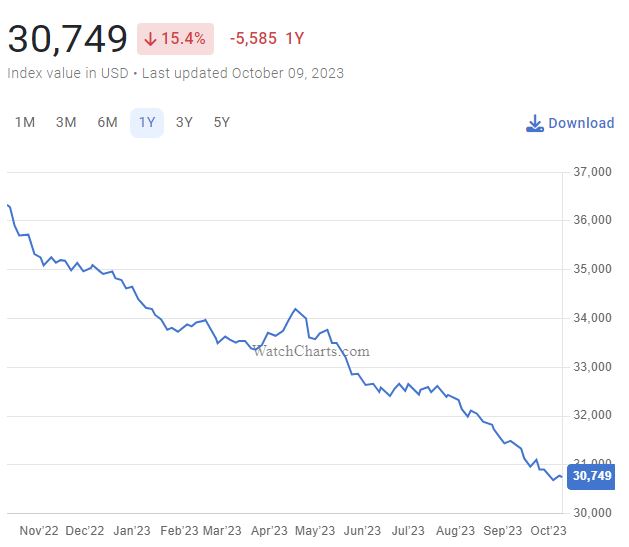 A resilient market
Who doesn't like a beautiful car? Well… maybe the folks who willingly buy a
Buick! Just kidding…
Another August came and went, and hundreds of millions of dollars were spent on
the world's most coveted cars. Each year, Monterey Car Week in California turns a
small town into a global destination for racers, collectors, and car aficionados.
Ranging from product launches, rallies, and races at Laguna Seca, car enthusiast and
makers alike join forces to show off some of the worlds (best/coolest/fastest/newest)
vehicles. It's not often that you can go to breakfast in a small town and walk by
million dollar cars parked on the street (probably with the keys still in them).
With a unique generational shift taking place, manufacturers are having to pivot and
cater to a younger generation of car lovers and wealthy buyers. It's "not your
father's" car show anymore, and the "EV" transition is in full display amongst the
car makers. Everything from the Rolls-Royce's Spectre to the Lamborghini's
Lanzador, the auto makers are putting together an electric blueprint for the future of
luxury vehicles. However, Is this truly the future? Motorheads still love the
addrenalie and deafening noise that are almost palpable at Laguna Seca. I am not
sure how fun an all electric car race would be. Maybe we would all wear
headphones with fake car engine noises and high five about saving the planet?
Either way, one of the most striking differences at Car Week was the dominance of
electric vehicle concepts. It is likely this will continue as investment dollars flow to
the EV transition, alongside growing political pressure in the U.S..
Although I prefer Porsche above all, it's hard not to notice the stunning rollout
design of the new Droptail Rolls-Royce. Only four of them will be made, costing a
cool $30 Million. It's no wonder the Fed Chair Jerome Powell is cranking up interest
rates…!
The final scoop: the market did cool. By the end of car week, sales had reached over
$400 million dollars, significantly less than last year. Craig Jackson, the CEO of
auction company Barrett-Jackson, told Bloomberg that "with the economy and
interest rates up, you do see a slowing in some areas". Nonetheless, wealthy buyers
and investors continue to demand the luxuries of Car Week and support the car
market. Although the luxury car bull market continues, its charging slower than
before.
To contact the author of this story:
Kelvin Lee at kelvin@hamiltoncapllc.com
To contact the editor responsible for this story:
Alonso Munoz at alonso@hamiltoncapllc.com