By Kelvin Lee, Alonso Munoz
In similar fashion to the blockchain craze, investors are piling into any company that simply mentions the golden words "artificial intelligence". It's not a bad idea. We think AI is still the greatest tailwind in this economic cycle, but it's important to look for quality companies, not unproven ones with flashy and opportunistic marketing. In our recent commentary, we have highlighted companies like Nvidia and Tesla, which boast sustainable growth and impressive track-records. As valuations skyrocket, and investors look for justifiable alternative to AI exposure, we believe there is one name that stands out: Taiwan Semiconductor Manufacturing (TSMC).
If you read our NVIDIA post, it's obvious why we're bullish on AI and suppliers of the sector. TSMC is the supplier's "supplier". TSMC is the world's largest independent semiconductor producer. They manufacture the chips for the Apples and Nvidias of the world. Estimates put TSMC as responsible for producing over half of the world's chip manufacturing and more than 90% of the ultra-high-end semiconductors used by processors. We suspect they will keep that market share for the foreseeable future.
First, TSMC has a competitive advantage in their manufacturing by being able to mass produce 3nm chips (nm as in nanometers). For context, chip performance is measured in part by the distance between each transistor, the smallest control units in chips that direct electric voltage. The smaller the distance between them, the faster and more power efficient the processor is. Most of our modern high-end tech products have chips in the 5-7nm range. TSMC meanwhile is mass-producing 3nm chips, which are 15% more powerful and 30% more energy efficient than the last generation, and the company is already capable of getting down to 2nm. The only other player able to produce similar performing semiconductors is Samsung, which only holds 15% of the fabrication market. As AI demand grows, so will the reliance on more powerful chips.
Secondly, semi fabrication is capital intensive and extremely sophisticated. There's a reason why all the big tech companies are choosing to outsource their production to TSMC, rather than vertically integrate. It would be an expensive investment and a multiyear endeavor to manufacture a product less advanced than the current supplier. Even if a TSMC customer was looking to diversify suppliers, the options are severely limited, especially if advanced 3nm products become the "standard". In short, TSMC is extremely well positioned to dominate the semiconductor space and grow accordingly with exponentially swelling demand.
In terms of fundamentals, TSMC has a proven track record with positive trends. Annual revenue, EBITDA, and EPS have consistently grown. Gross margins also remain much higher than their peers and, even with the latest cost pressures from 3nm chip productions, the firm is above historical margin levels. And don't just take our word for it. We spoke to Matthews Asia Investment Management, one of the premier Asia focused investment firms managing over $12 Billion, on their thoughts on TSMC. This is what their portfolio manager John Paul Leach had to say:
 "There are very few companies with 50%+ gross margins, 40%+ operating margins and 30%+ profit margins that are central to scalable and durable growth trends. More chips in more things and more complicated and higher-powered ones. TSMC has a dominant share in leading nodes. There are risks to every business. TSMC is no exception, but this is a world class business at a less than S&P average multiple."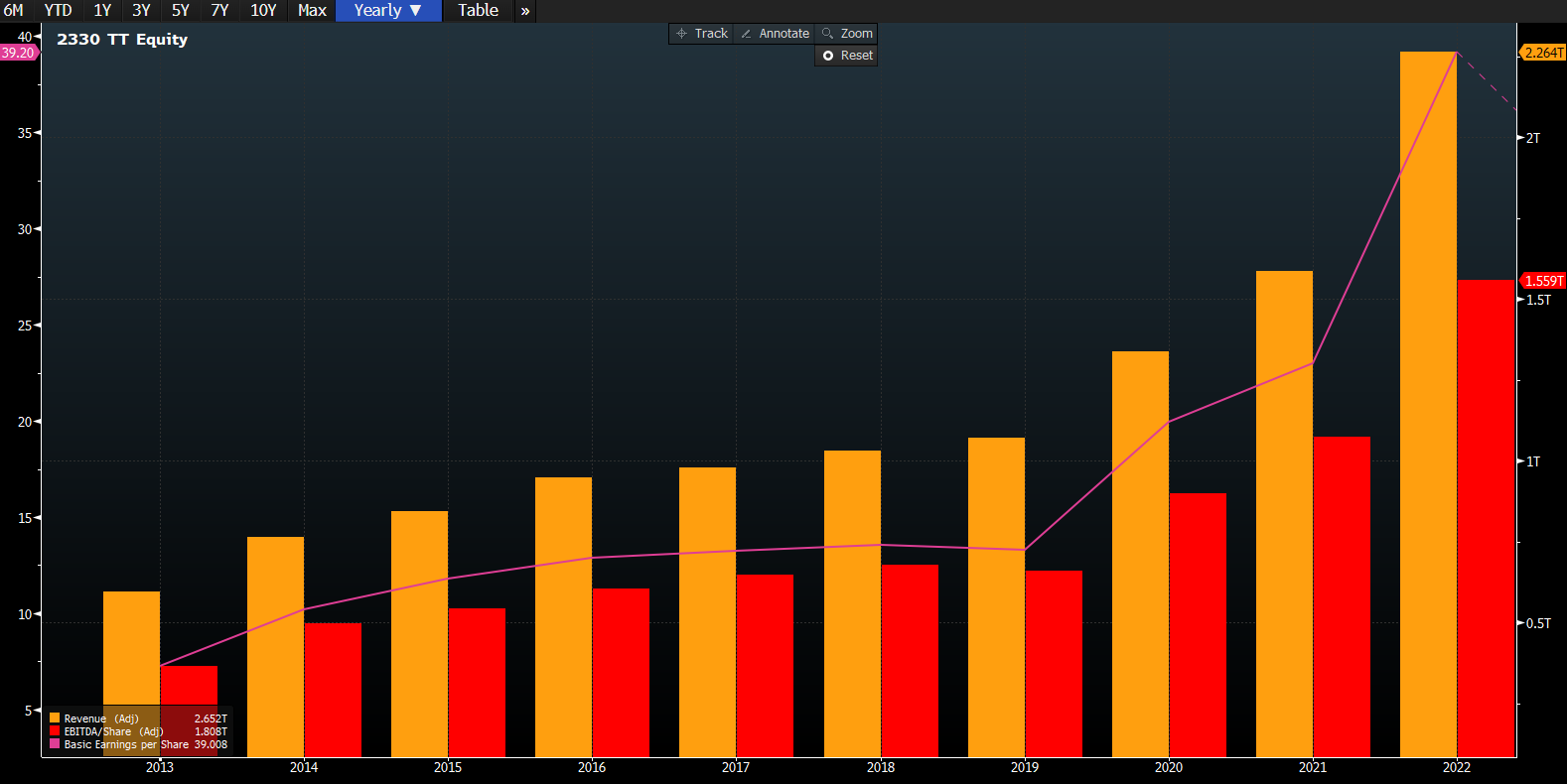 A world class company, and at a good price compared to peers. Relative to its north American counterparts in the semiconductor business, TSMC still trades at the lower end of the price to earnings range.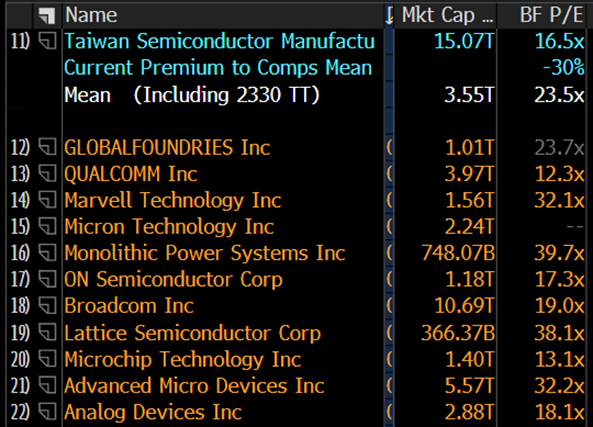 *Source: Bloomberg L.P.
Now while the fundaments are great, we will acknowledge the "T" in TSMC. It's a Taiwanese company, so there is the Chinese political risk, and we don't take this lightly. It's arguably one of the reasons the company trades at relatively attractive valuations, and while an invasion would be unprecedented, investors have the right to be weary of the dragon stalking the sea. Fortunately, however, semi production is being diversified as TSMC is working on a $40 billion investment in Phoenix Arizona on new plants (one of the largest foreign direct investments in American history), and, following the Chips act, TSMC is also expected to receive billions in credits to expand here in the U.S.
Overall, TSMC remains among the very few pure play semi fabrication growth stories in the sector, driven by a combination of secular tailwinds in artificial intelligence, cloud, electrification and automation.
Disclosure: Hamilton Capital Partners, LLC (HCP) maintains Taiwan Semiconductor Manufacturing Company (TSM: NYSE) as a position in the firm's Artificial Intelligence Innovators Portfolio.
To contact the author of this story:
Kelvin Lee at kelvin@hamiltoncapllc.com
To contact the editor responsible for this story:
Alonso Munoz at alonso@hamiltoncapllc.com