By Sambhav Bansal, Alonso Munoz
Rivian has been on an absolute tear this year!
If you're even remotely interested in EV's, you're bound to have heard about Rivian Automotive Inc. The company is backed by Amazon and auto giants such as Ford. In recent years, it had one of the most valuable IPOs of 2021 at north of $70B, which helped the company raise nearly $12B to (super)charge its growth. As we head into an autonomous and electric future for auto, is Rivian the next big player?
Down nearly 80% from its IPO valuation, Rivian (Nasdaq: RIVN) resembles a venture capital investment gone horribly wrong. It is a prime example of a company with ambitious goals and aspirations that failed to understand its market opportunity, growth limitations, and positioning. It overestimated demand, underestimated supply-related constraints and severely misunderstood its target buyer.
Tesla (Nasdaq: TSLA) is the most valuable car manufacturer in the world, and it's not just because they sell the most EVs. Frankly, they (TSLA) have invested heavily in building a vast and reliable network of charging stations, brand image and loyalty, and most importantly, have focused on rapid innovation. The value of their cars is in the software capabilities; This allows TSLA to generate recurring revenue and provide enhancements and updates to its consumers. In contrast, RIVN focused on developing a niche segment of vehicles: EV luxury trucks and SUVs. So far, the struggles are real, especially as their production issues held them back and the stock took the brunt of the pain.
Like Lucid (a competing EV manufacturer), RIVN positioned themselves as a Luxury EV automaker, and it was one of the first companies to develop a fully electric truck. But developing a good truck is very different than successfully being able to sell it. As is market wisdom, even great products fail when there is low demand, and the company fails to scale production. This has directly hindered RIVN's growth. As it stands today, they don't have the history, trust, loyalty, or the brand popularity that legacy luxury automakers such as BMW & Mercedes-Benz have, neither do they have a strong and dedicated consumer base that truck manufacturers like Ford and GM boast. Despite this, if an American consumer were to consider buying a Rivian R1T or R1S, the prices between $80-120,000 keeps them away. I don't need to tell you ALL the alternative luxury EV's you could get for that kind of money, almost all of which would come from large manufacturers with already established dealer and service networks. Where do you take your R1T when you break down on that amazing weekend lake trip you took? The local Rivian dealership? We won't even mention the much-anticipated CYBERTRUCK.
Now the hype isn't completely unfounded. First, Rivian is backed by Amazon, which is the company's largest shareholder at 17%. With over $1.5 Billion invested, Amazon has pockets deep enough to cover Rivian's negative margins and delivery misses. Amazon has already committed to purchasing 100,000 Electric Delivery Vans (EDVs) based on the R1 infrastructure to electrify its delivery fleet by 2040. And speaking of deep pockets, Rivian has a massive cash reserve of $11b that outshines its startup peers. Whether detractors like it or not, the EV maker has the capital to stay afloat for a while. Another tailwind for Rivian is production. While Rivian struggled in 2022 to meet its manufacturing commitments, the company's last 2 quarters show the firm is on pace to hit its annual 50,000-unit production target. Furthermore, the company has invested another $2 Billion in a new domestic plant to meet demand. That's great news since, unlike other EV producers, Rivian's sales are already guaranteed by corporate customers. All Rivian must do is create more cars.
While Amazon is the reason RIVN hasn't already gone down the way of Lordstown Motors, it also may be the reason it eventually does. RIVN currently has an exclusivity agreement with AMZN that limits its ability to sell its R1 commercial vehicles to anyone else, and RIVN is currently courting AMZN to amend this agreement so they may open their order books for other commercial clients. It is hard to see why AMZN would not want RIVN to sell more trucks while being their largest shareholder, unless AMZN is looking to divest and move on like Ford did. It is worth mentioning that AMZN has reduced their annual order for the R1 commercial truck to the minimum of 10,000. The result of the negotiations would be a good indication of the company's future with AMZN. Rivian's commercial truck business has significant potential and might be what saves it in the long run, but it remains to be seen if and how they evolve in both the commercial and passenger vehicle markets.
If we look at the chart below, RIVN's gross profit decreases every quarter, depleting their cash reserves at a rapid pace. This directly correlates to their increase in revenue. Now why would an increase in sales & revenue lead to a decline in profitability? Well, according to this article from Reuters, Rivian loses approximately $140,000 per vehicle it makes and sells. The only way to fix this is to scale as quickly as possible and thereby reduce the average cost per vehicle, especially considering that RIVN suffers from supply and production challenges despite having a healthy order book.
Only time will tell if RIVN is the next EV leader, or another zombie company waiting for its demise.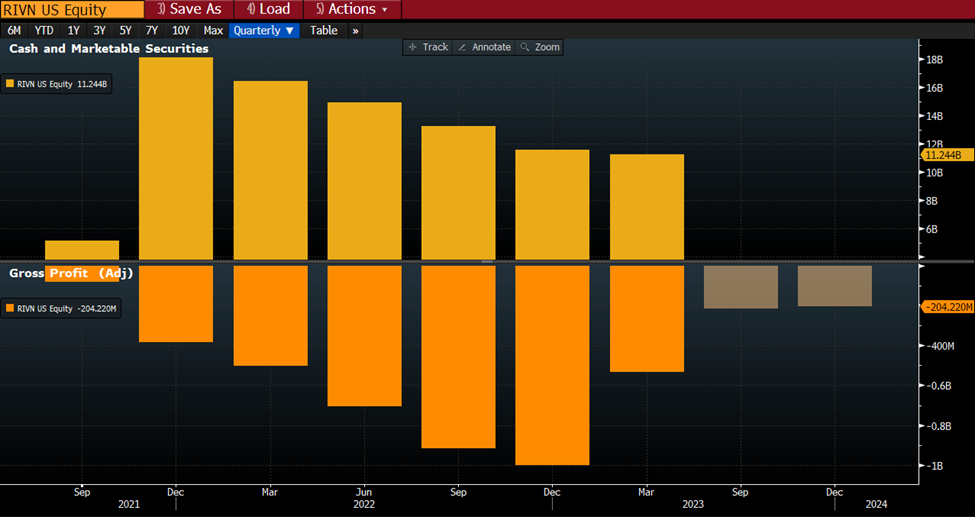 *Source: Bloomberg L.P.
To contact the editor responsible for this story:
Alonso Munoz at alonso@hamiltoncapllc.com