By Kelvin Lee, Alonso Munoz
If you had the opportunity to go back and purchase Google stock in 2004 during the genesis of the internet, or Apple in 2007 when the smartphone was released, would you? Of course. These companies were poised to benefit immensely from great technological advancements (and if you said no, then feel free to stop reading and continue hoarding your gold Krugerrands). Unfortunately, we aren't Doc Brown and can't go back in time, so instead, we must research and conject for future innovation and identify avenues to invest in it. That's the context for our bullish stance on AI. It's here, it's the next big thing, and it's going to leapfrog us into the new era of modern technology. But how do we buy into it? Our answer, Nvidia. Nvidia is one of the largest designer and provider for graphics processing units (GPU's), data processing units (DPU's), application programming interfaces (API's), and high computing software systems. All these products are what makes large scale data processing units, natural language processing chat bots, and machine learning models run, thus making Nvidia the dominant supplier and servicer for Artificial Intelligence. And that's the key, Nvidia is the supplier for the foundational technologies that AI players need to run their services. Just over the past year the largest tech companies have already announced partnerships with Nvidia to develop AI applications: MSFT, which invested over $10 billion in ChatGPT founder OpenAI, is bringing Nvidia's DGX cloud supercomputing service to Azure, and Google Cloud plans to use Nvidia's L4 Tensor Core GPU for its generative AI models. As more and more companies adopt cloud computing and generative AI models, Nvidia is poised to benefit regardless of which tech company makes an innovative breakthrough, and in an environment where generative AI and enterprise digitization are key earnings call buzzwords, there simply aren't many firms with Nvidia's tailwinds.
Nvidia is a one-stop solution for companies with a sleeve of software cloud services able to manage data and a variety of hardware and full stack GPUs to train complex models on that data. The company's DGX Cloud service that Microsoft uses is an outsourced AI supercomputing service that can train other models and utilizes Nvidia's new chipsets like the L40 and H100 NVL. These chips can optimize AI applications where general CPU's lack the power for inferencing.
While the AI story is a tailwind, Nvidia has other convincing fundamentals. Originally, Nvidia's revenue was in greater part made up of supplying gaming consoles and personal computers with GPU's, which was and continues to be extremely profitable for the company. However, the recognition and pivot to diversify the company's revenue line into data centers was a compelling reason for our investment. Like jet fuel for airlines, data centers have been a necessary expenditure for every business with a digital infrastructure. They're necessary for e-commerce, data storage and processing, and are integral to small and large enterprises. And that's good news for Nvidia as they supply these data centers with the "jet fuel" to run. In the below chart, we can see that data center revenues have significantly outpaced gaming and graphics cards over the last five years. We expect this trend to continue as more and more businesses digitalize. There also is a significant upside with AI. Artificial intelligence requires vast amounts of data to train on and data centers provide the necessary storage capacity to house these datasets. Data center revenues have already given Nvidia a significant advantage, with the stock out-competing peers in the Philadelphia Semiconductor and Nasdaq Composite Indices.
Nvidia reports earnings this afternoon, and a lot of options driven volatility and major reactions in the share price are to be expected. With the share price up 109% year to date and trading at an elevated 60 times price earnings multiple, analysts will be looking for any reason to justify their bearish sentiments on the stock. To be candid, that negativity can be justified as Nvidia's peers saw broad slowdowns in the PC market last quarter and trade at much "friendlier" multiples. But while those concerns are credible, we remain bullish on Nvidia as we're more focused on sustained growth potential. We'll be eyeing data center revenues and the company's annual guidance as a better metric for valuation. The AI tailwinds and marketplace dominance in GPU's will continue to further Nvidia's expansion as a high-tech supplier and, overall, we're simply excited about Nvidia's future potential. Investors stuck in defensive dividend stocks have already missed the total return on AI this year, we would caution against making the same mistake again.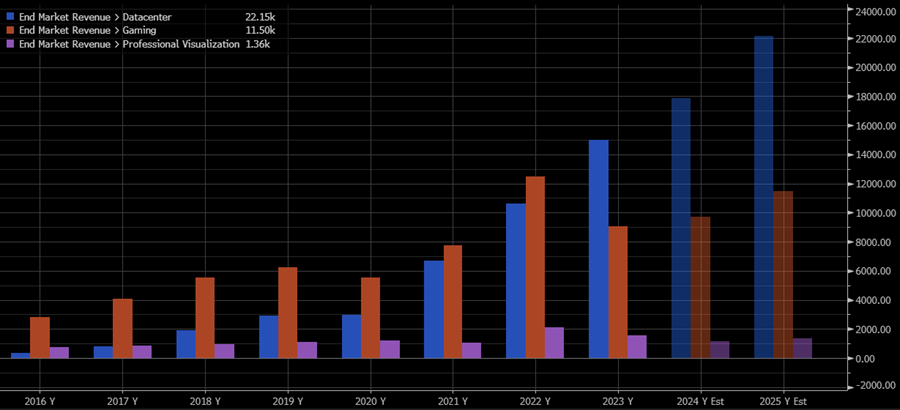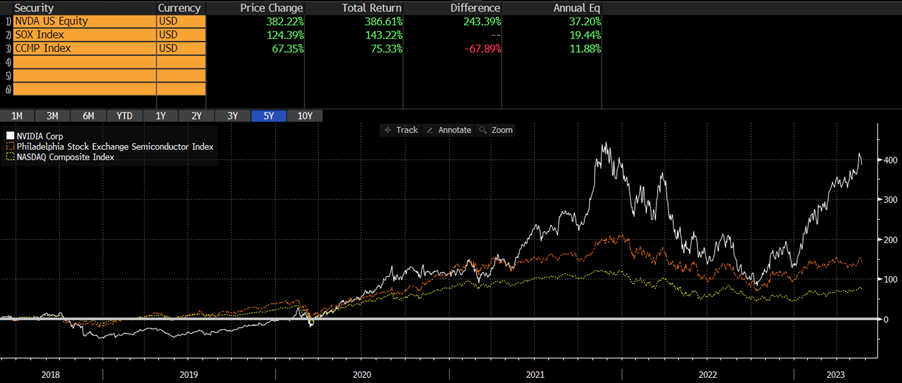 *Source: Bloomberg L.P.
To contact the author of this story:
Kelvin Lee at kelvin@hamiltoncapllc.com
To contact the editor responsible for this story:
Alonso Munoz at alonso@hamiltoncapllc.com