By Kelvin Lee, Alonso Munoz
The art world seemed basically unscathed by the torrential economic conditions in 2022. The top ten pieces, each unique in significance and expression, totaled over $1.1 billion in auction sales. From Freud, Warhol, and Seurat, last year's ticket art pieces set high marks for the international art community. We broke down the 10 pieces below.
10.) René Magritte, L'empire des Lumières (1961) $79.8M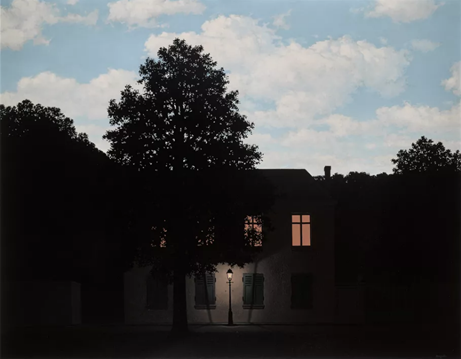 Not sold before as it was directly acquired by the artist, René Magritte's Empire of the Light did not disappoint with a nearly $80M sale price at Sotheby's London back in March. It was originally painted for Magritte's longtime patron and friend Anne-Marie Gillion Crowet. During the time in Gillion Crowet's collection, the piece was showcased in Louisiana Museum of Modern Art, the San Francisco Museum of Modern Art, the Seoul Museum of Art, and the Musée Magritte. Margritte's work demonstrates a surrealist approach on light. Here, natural and artificial light sources comingle fluently.
9.) Jean-Michel Basquiat, Untitled (1982) $85.0M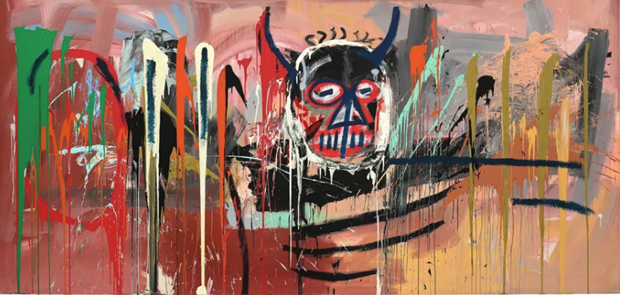 Jean-Michel Basquiat is a regular top contender for high priced works and his legendary skull painting style during his so called "golden year" of 1982 is no different. This piece sold for $57.2M in in 2016 to Japanese billionaire Yusaku Maezawa, marking a more than 50% appreciation in value. A horned devil on this 16ft wide painting evidences Basquiat's neo-expressionist form and status as an unhinged genius.
8.) Andy Warhol, White Disaster (White Car Crash 19 Times) (1963) $85.3M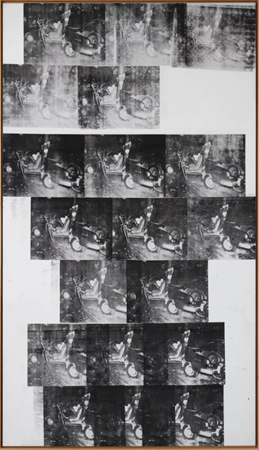 Not surprising to see Andy Warhol on this list. This painting comes from Warhol's "Death and Disaster" series and was first time that a painting from this collection had come to market in nearly ten years. The piece is based on a garnish photograph on horrific car accident in 1963, where Warhol uses his reproduction method to feature repetitive collisions. The last time a "death and disaster" sold was in 2013, when Silver Car Crash (Double Disaster) sold for $104.5M.
7.) Lucian Freud, Large Interior, W11 (After Watteau) (1981–83) $86.3M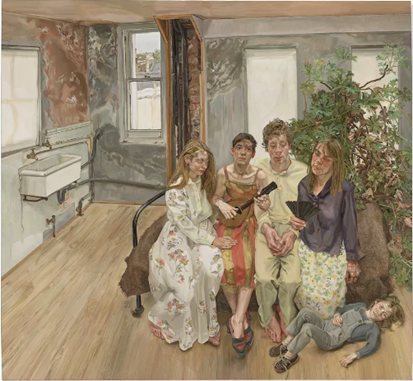 Originally acquired by Paul Allen in 1998 for $5.8M, Large Interior W11 represents a piece more contemporary from Allen's collection. The work exhibits Freud's gallant and masterful transcription of human commentary in a group setting. The French artist has seen much more demand with Freud's Benefits Supervisor Sleeping selling for a record $56.1M in 2015. The 2022 acquisition of Large Interior now an aide-memoire of the centenary anniversary for his death.
6.) Gustav Klimt, Birch Forest (1903) $104.6M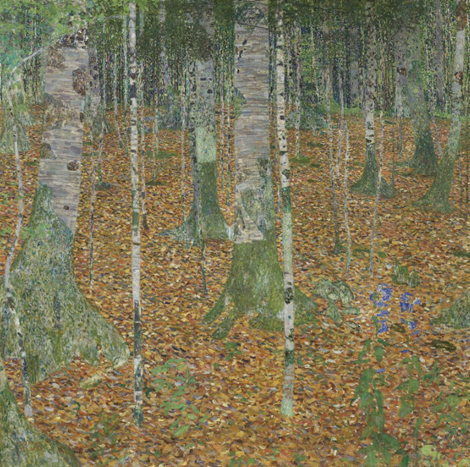 Another work from Paul Allen's collection, Birch Forest sold on the same date as Freud's for an astonishing $104.6M. That's over Klimt's existing auction record by more than $15 million, the previous record achieved by Portrait of Adele Bloch-Bauer II (1912 for $87.9 million in 2006. Klimt's dedication to balance and piece is combined with his abstract format to produce an overall effigy to the surrounding forest he lived nearby. With no sky to introduce perspective, Klimt captures the coinciding stillness, mystery and isolation that woods can provide.
5.) Paul Gauguin, Maternité II (1889) $105.7M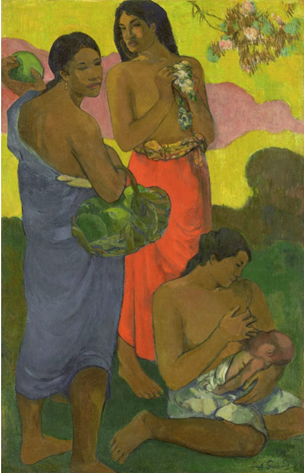 Paul Gauguin's travel through the pacific islands saturates itself in his works, with an emphasis on his experience in Tahiti. Maternité II depiction of wo women from the island comes after Gauguin's decision to move to there earlier, stating in a letter that he has "come to an unalterable decision to go and live forever in Polynesia without this eternal struggle against idiots." Paul Allen purchased this piece originally in 2004 for $39.2M, now the $105.7M sell marks the top selling auction for Gaugin works.
4.) Vincent van Gogh, Verger avec cypres (1888) $117.2M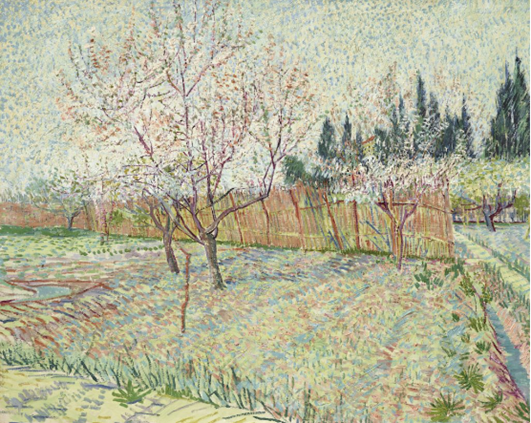 Just the van Gogh name brings extreme interest and subsequently massive prices. Partly due to an art market bubble 10 years ago, van Gogh works are associated with the pinnacle of art collection, and now the $117.2M price paid for Verger acec cyprès has broken the new record for the priciest van Gogh sold, usurping The Portrait of Dr Paul Gachet sold in 1990 for $83M. Van Gogh created Verger avec cyprès during a stay southern France where, using delicate linear strokes, he painted his interpretation of a promised land.
3.) Paul Cézanne, La Montagne Sainte-Victoire (1888–90) $137.8M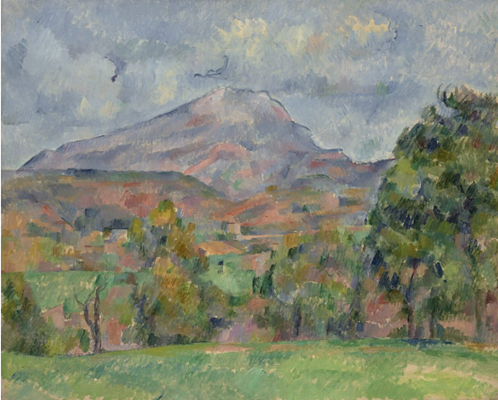 A Paul Cézanne's Sainte-Victoire painting is one of very few opportunities to own a work influencing the entire post-impressionist movement. The La Montagne Sainte-Victoire is one of a series of pieces Cézanne painted to depict the peak of Sainte-Victoire in a modern non-structural style. The brushstrokes, with their saturated colors and evolving composition, serve as the most iconic impressionist piece and an introduction into Cubism's. The last record for a Paul Cézanne was set in 1999 for $60.5M.
2.) Georges Seurat, Les Poseuses, Ensemble (Petite version) (1888) $149.2M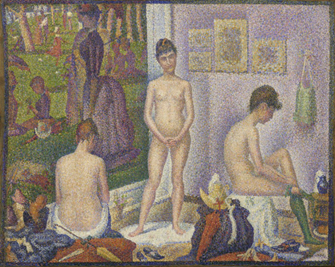 The most expensive from the 2022 Paul G. Allen collection is this Georges Seurat painting. Les Poseuses in 1888 was Seurat's eloquent response to critiques made concerning whether the pointillist style was adequate in depicting the nuances and subtleties of the human body. It's a reflexive work that also references another Seurat masterpiece, A Sunday Afternoon on the Island of La Grande Jatte, in the background composition. Does this justify $149.2M price? Apparently so to the buyer from Asia.
1.) Andy Warhol, Shot Sage Blue Marilyn (1964) $195M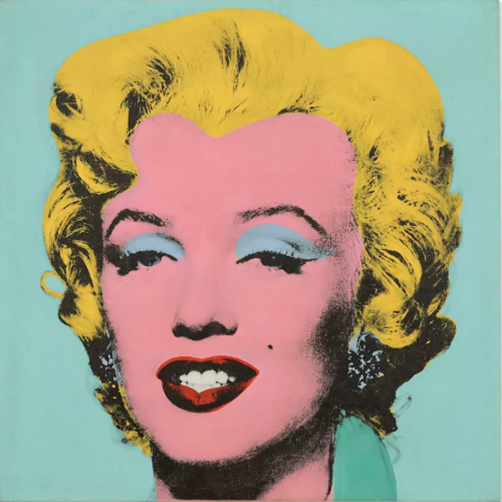 The most expensive artwork created the 20th century, Andy Warhol's Shot sage blue Marilyn is an American classic. Portraying the charm of icon Marilyn Monroe with a nod to her cultural prowess achieved through that mesmerizing blue shade, Warhol showcases the height of his silkscreen technique through this industrial screen aesthetic. Unlike much of the Paul Allen collection which holds many spots on this list, this work hails from a collection owned by Swiss siblings Doris and Thomas Amman.
To contact the author of this story:
Kelvin Lee at kelvin@hamiltoncapllc.com
To contact the editor responsible for this story:
Alonso Munoz at alonso@hamiltoncapllc.com