By Kelvin Lee, Alonso Munoz
Investing can take many forms. You can buy stocks, bonds, real estate, and the thousands of other financial products that work to cover financial markets. But do you enjoy owning these assets? Are you excited and enthusiastic about owing a mutual fund or treasury note? Probably not and that's where passion investing fits in (and if you are, call your financial advisor and explain it to them). Passion investing involves non-traditional assets that generally allow you to enjoy the ownership of the asset while holding it. Examples would include antiques, art, watches, and cars. In other words, there are unique opportunities to put your money to work that can bring a little bit of joy and passion into your investment journey.
Kelvin Lee, Portfolio Manager and Head of Research 
Watches, they don't just tell the time
I confess, I lack much expertise in the high-end watch space. It's been a growing hobby over the last year. However, I have so far been unequivocally entranced by the horology and beauty for certain timepieces. They leave an emphatic impression on the realm of artistic creativity, while also serving as an emblem for human accomplishment with their remarkable mechanical ingenuity. It's a painting, a tool, and a minute contraption that sits ever so politely on your wrist. That's the passion aspect, and I get it. On the other side I see how the value retention, appreciation, and consumer support make watches a suitable investment tool. In many higher end brands, especially those categorized in what enthusiast's call "the holy trinity", the secondhand market pricing is higher than retail, with models such as the Audemars Piguet Royal Oak and Rolex Daytona appreciating in value over the last few years. Then there's the added benefit that valuable watches are indifferent to inflation. Dee, a founding member of the Atlanta Watch Society, told me "The demand for watches is unrelenting. Most pieces still have long waiting lists." So, while the consumer discretionary sector and most equity indices have been hurt this year as decades high inflation has eaten into pricing power, the demand for premium watches is still strong. Inflation simply doesn't bother the high net worth watch consumer. They're paying for intangible values such as brand, exclusivity and craft. What difference does an 8% price hike in the retail price mean for someone already purchasing a watch for hundreds of times the raw material cost anyways? Looking at the below, you can see that Swiss watch exports strengthened more than 10% year over year in July for items above 500 francs, even with the macroeconomic headwinds. All I can say is that this wearable asset is here to stay.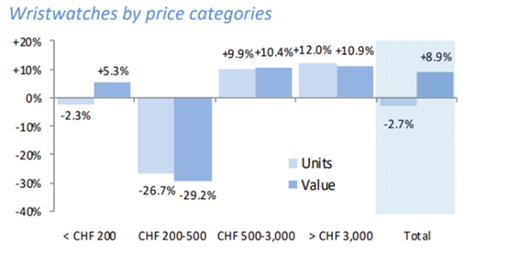 * Source: Bloomberg
Alonso Munoz, Chief Investment Officer
Have you ever seen a million-dollar car? How about a twenty-two-million-dollar car?
Every August, a small and beautiful California town turns into one of the most exuberant and exclusive destinations for car aficionados, racers, and collectors. In Carmel, California, the automobile world converges for a series of races, shows, and exhibitions at the world renowned WeatherTech Laguna Seca, Pebble Beach, and the streets of Carmel. At this year's Rolex Monterey Motorsports Reunion, I found it almost impossible to remember that inflation was rampant, an economic downturn was imminent, or that the financial markets were in turmoil.
Aside from my nostalgia (until next August), Monterey Car Week attracts many of the world's elite to purchase, trade, and explore new vehicles at the expos and car shows. Many of the top manufacturers bring their newest and most innovative vehicles to be displayed. Specifically, and in elegant fashion, Lamborghini unveiled their Urus Performante, Buggati showed off its Mistral, and Rolls-Royce presented their Phantom II nicknamed the "Maverick". As you can imagine, the price tag for these vehicles carries a few zeros. For many wealthy investors, collectibles and alternatives such as high-end luxury or classic vehicles have been a unique way to preserve and diversify their wealth. For example, the 1955 Ferrari 410 Sport Spider sold at auction in Monterey for over $22 Million dollars. Yes, you read that correctly. For more sensible investors however, there are seemingly limitless options of beautiful cars that have continued to hold their value, even during recent economic contractions and bear markets. As car week concluded this year, CNBC reported that over 790 cars sold for a total sales value of $469 million, a record number of cars sold for over a million dollars each. Interestingly, millennial collectors played a role in these staggering numbers. All of this occurred while the U.S. Federal Reserve continues to hike rates, supply chain bottlenecks continue to fuel inflation, and the political climate seems hostile towards the wealthiest in America. As for the classic and luxury vehicle market, the bull races on.
To contact the author of this story:
Kelvin Lee at kelvin@hamiltoncapllc.com
To contact the editor responsible for this story:
Alonso Munoz at alonso@hamiltoncapllc.com